Safeguarding
The welfare of our children is paramount. All children, regardless of age, gender, culture, language, race, ability, sexual identity or religion have equal rights to protection, safeguarding and opportunities.
We recognise that all adults in our school have a full and active part to play in protecting our pupils from harm and have an equal responsibility to act on any suspicion or disclosure that may suggest a child is at risk of harm.
Our school is committed to developing a culture of safeguarding by providing an environment in which children and young people feel safe, secure, valued and respected, and which promotes their social, physical and moral development. Children in our school feel confident to, and know how to approach adults if they are in difficulty.
Our Safeguarding Team
Safeguarding and promoting the welfare of children is everyone's responsibility.
Our safeguarding officers at the school are:
Mrs Pip Utting: Headteacher, Designated Safeguarding Lead
Mr Matt Blow: Deputy Headteacher, Deputy Safeguarding Lead
Mrs Caroline Case: Assistant Headteacher and Inclusion Leader, Deputy Safeguarding Lead
Mrs Natalie Yendole: Assistant Headteacher, Deputy Safeguarding Lead
Mrs Vaiva Krivickiene: Family Liaison Officer, Deputy Safeguarding Lead
Adults and children are welcome to talk to us if they are worried about anything.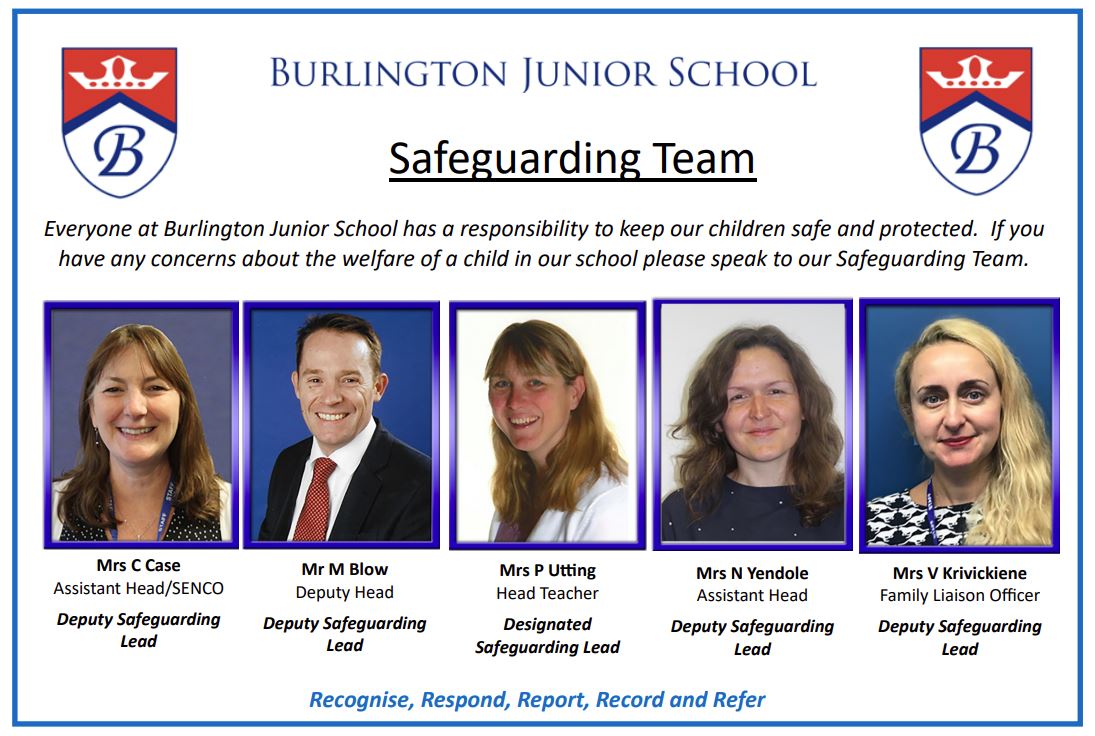 Our Safeguarding Policy and Other Information

Who to contact if you have a concern

If you have a safeguarding concern about a child, you can contact any member of staff and they will refer the concern to our safeguarding team. If you have a general worry or question about your child and their well-being, please speak to your child's class teacher in the first instance.
For some children and families, home isn't a safe place.
If you are concerned about the safety or welfare of a child, please contact Kingston and Richmond's SPA (Single Point of Access) on 020 8547 5008 from 8am to 5.15pm Monday to Friday where you can share your concern and gain advice and information.
If you need to speak to someone urgently after hours or at the weekend, call the 'Out of Hours' team on 020 8770 5000.
If you think a child is in immediate danger, you should call 999.
Sexual Harassment and Harmful Sexual Behaviour

Burlington Junior School follows the DfE's advice about sexual violence and sexual harassment between children in schools and colleges.
Sexual violence and sexual harassment exist on a continuum and may overlap. They can occur online and offline (both physical and verbal) and are never acceptable. Burlington Junior School will ensure that all victims are taken seriously and offered appropriate support.
Sexual violence and sexual harassment is not acceptable at Burlington Junior School. Behaviours such as making sexual remarks (even if they are meant as compliments), grabbing bottoms, breasts and genitalia is not 'banter' or 'having a laugh' and will never be tolerated.
Through our school policies (such as behaviour and anti-bullying), our assemblies and our curriculum (particularly in PSHE), pupils are taught about healthy and respectful relationships, consent, equality, body confidence and prejudiced behaviour.
For more information about this, please see our Safeguarding Policy.
Useful Links
Please see the documents at the bottom of this page for further guidance and information.
Operation Encompass
Burlington Junior School is signed up to the police initiative Operation Encompass that helps the school provide silent support to children. The system ensures that when police are called to an incident of domestic abuse, and where children in the household have experienced the incident, the police will inform the Designated Safeguarding Lead in school the following day. This ensures that school has up to date information about the child's circumstances and can make sure silent support is given. Please see the letter below.
Useful Safeguarding Links

-->