Reading




At Burlington Junior School, we aim to provide a stimulating reading environment which enables every child to become an enthusiastic, independent and confident reader by the end of Key Stage Two.
Learning to read is a fundamental part of any child's education as these skills allow them to access all areas of their learning and prepare them for the next stage in their life. Reading is an integral part of everything we do at Burlington Junior School, with children being taught the skills they need to decode (read words on the page) as well as developing their comprehension and understanding.
Developing Reading Fluency
Phonics at Burlington Junior School
Any child who did not meet the phonics expectations at the end of Year 2 are identified and are taught in small groups or on a 1:1 basis following the Read, Write, Inc. phonics scheme. Children are assessed every half term to ensure that they are accessing Read, Write, Inc. at the level appropriate for them.
Throughout Key Stage Two, children continue to make use of their phonic skills to enable them to decode and blend sounds in unfamiliar or tricky words.
Useful Links
Our Reading Scheme
Once children have met expectations in phonics, they move on to the Collins Big Cat colour coded reading books. These books allow children to read a book at an appropriate level before becoming independent readers.
Reading for Pleasure
At Burlington Junior School, we are passionate about reading.
Class Readers at Burlington Junior School
Alongside high quality texts used in our English lessons, all classes will have a carefully selected class reader. During dedicated story time, our teachers aim to choose books that inspire and engage our pupils as well as reflecting the wide variety of cultures found in our school.
Here is a list of some of the class readers that your children will read during their time with at Burlington. We see this list as something that should be always evolving as we strive to share new books with our children that we, as teachers, are passionate about.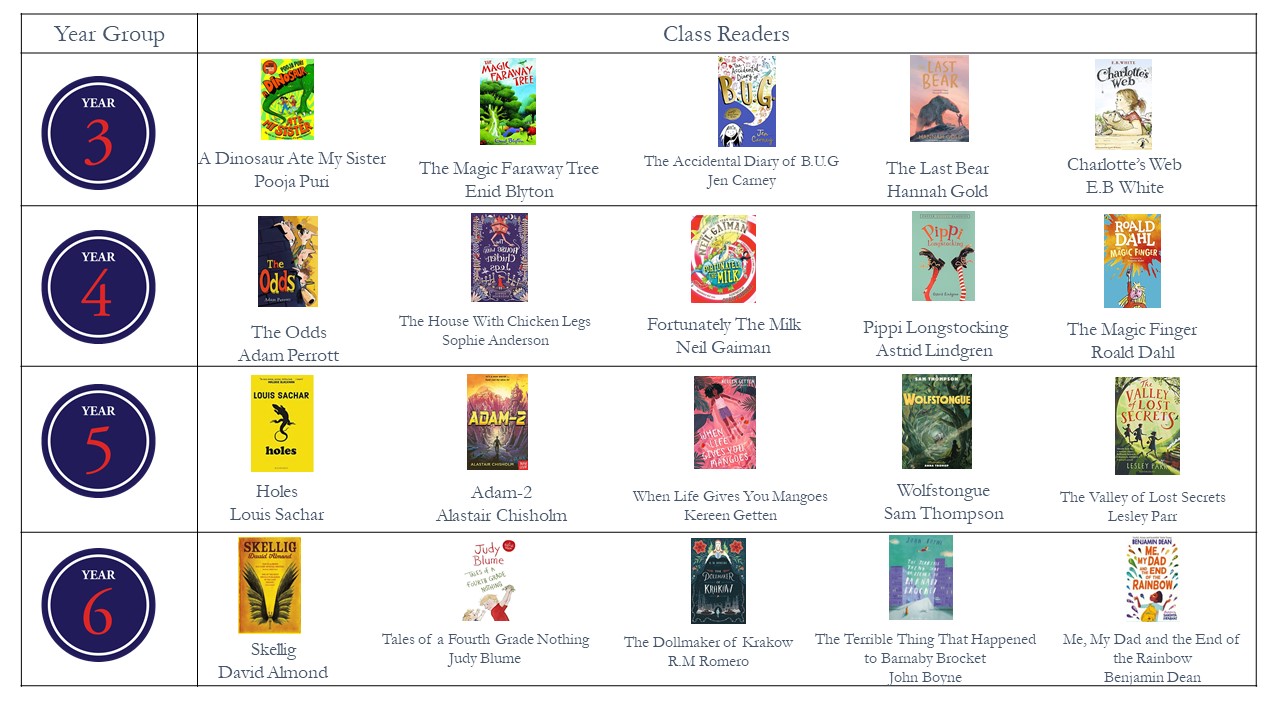 Children's Reading Books
Children are able to borrow both fiction, poetry and non-fiction books from our school library and their classroom book corners.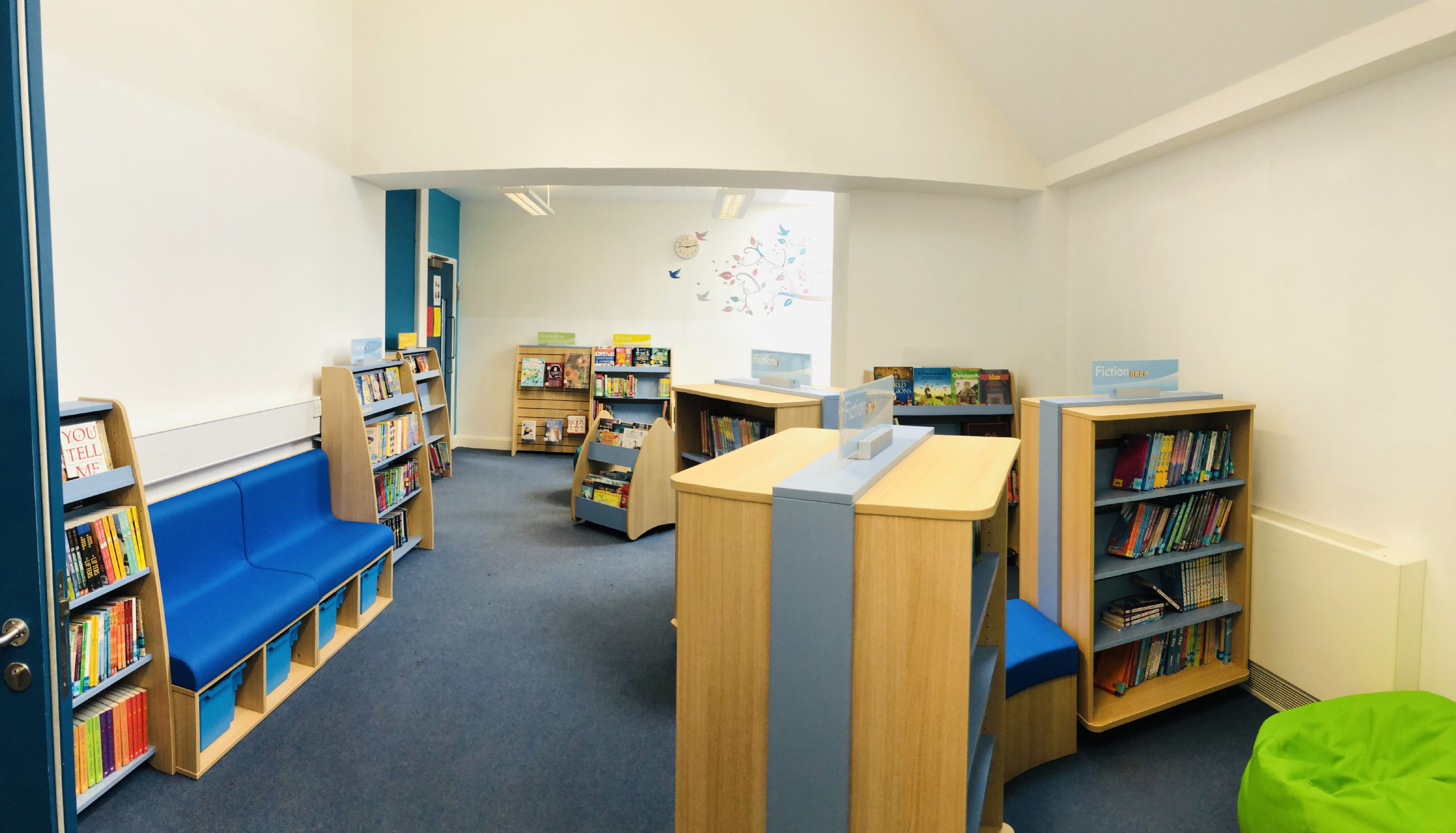 Our School Library
"I love all of the places you can read at Burlington. Within the library, there are so many genres to choose from and books that can help me learn more about the topics I'm interested in. The books we get to read alongside our literacy work have helped me learn useful vocabulary for my own writing. This year, I have learnt phrases that I want to use within my written work in Year 6."

Year 6 Pupil
Book Bingo
Pupils in all year groups are encouraged to participate in our Book Bingo challenge. This challenge enables pupils to read a variety of texts by a variety of authors.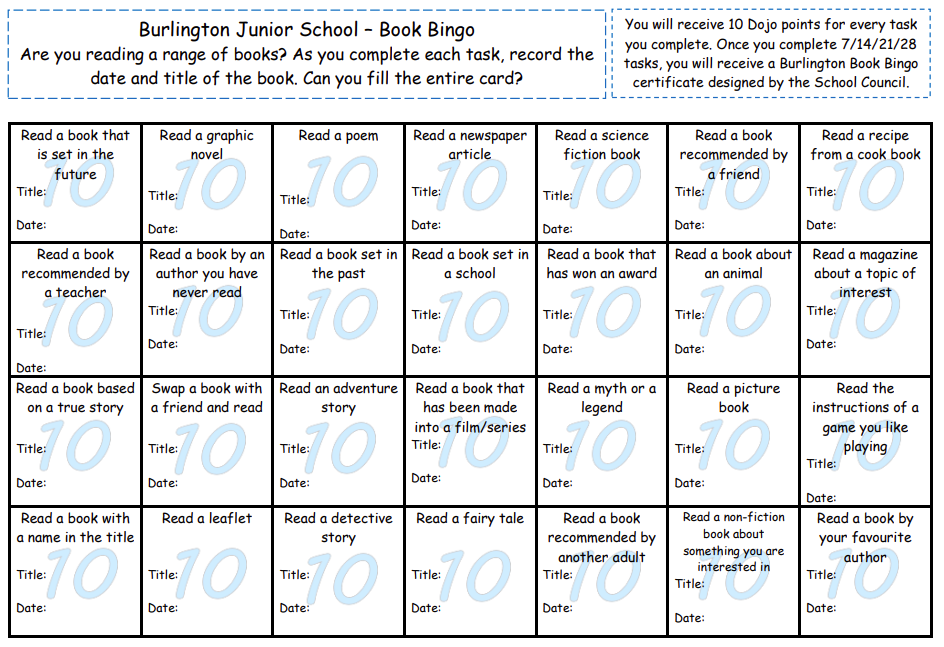 Recommended Reading Books
The 'Five Finger' Rule:
The 'five finger' rule is a quick and easy way for your child to check if a book is suitable to read on their own. Before they start, ask them to turn to a random page in the book and read it. For every word that they don't know, they should hold up a finger. Your child can then use the following guidelines according to how many fingers they hold up:
0 or 1 - Most probably too easy for your child.

2 - A good choice that will give your child a reasonable challenge and allow them to learn new words.

3 - Your child might need some help, but it's still a good choice if they're up for a challenge.

4 - This book may be too difficult for your child to read on their own. If you are on hand to give them help or read along with them, it can be suitable but, if they are reading on their own, they should choose a different book.

5 - Most probably a little bit too tricky - try a different book.

Remember - this should only be used as a guideline.

Useful Links

-->