Music




Music is highly valued at Burlington Junior School. It is approached with energy and enthusiasm by all. Through listening to, and engaging with, an extensive repertoire of music, children develop their understanding of music and its place in the wider world.
All children have a weekly music lesson, taught by a specialist music teacher. Listening, composing and performing are the three main strands of music teaching, and lessons incorporate numerous opportunities for singing and the use of instruments. During their time at school, every child will have the opportunity to learn a musical instrument alongside their classmates, currently being the recorder in Year 3 and the ukulele in Year 4.
At the end of each unit of music there are opportunities to perform to the rest of the school, showcasing our new skills. In every year group, there is at least one performance to parents during the school year, including excerpts from Carmen the opera in Y5 and the Y6 production in the summer.
We have achieved the Music Mark Schools' Award, meaning that we are considered to be a school which offers outstanding music education.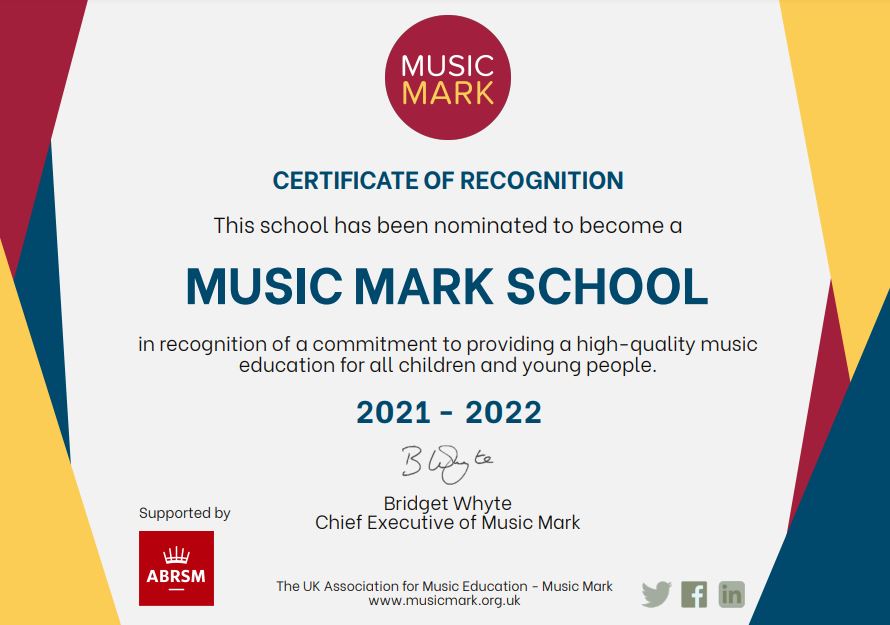 Our Music Learning Journey
Our music curriculum is based on the National Curriculum, and offers a broad and balanced music education. It begins from the point reached at the end of the Infant school and shows progression through the year groups.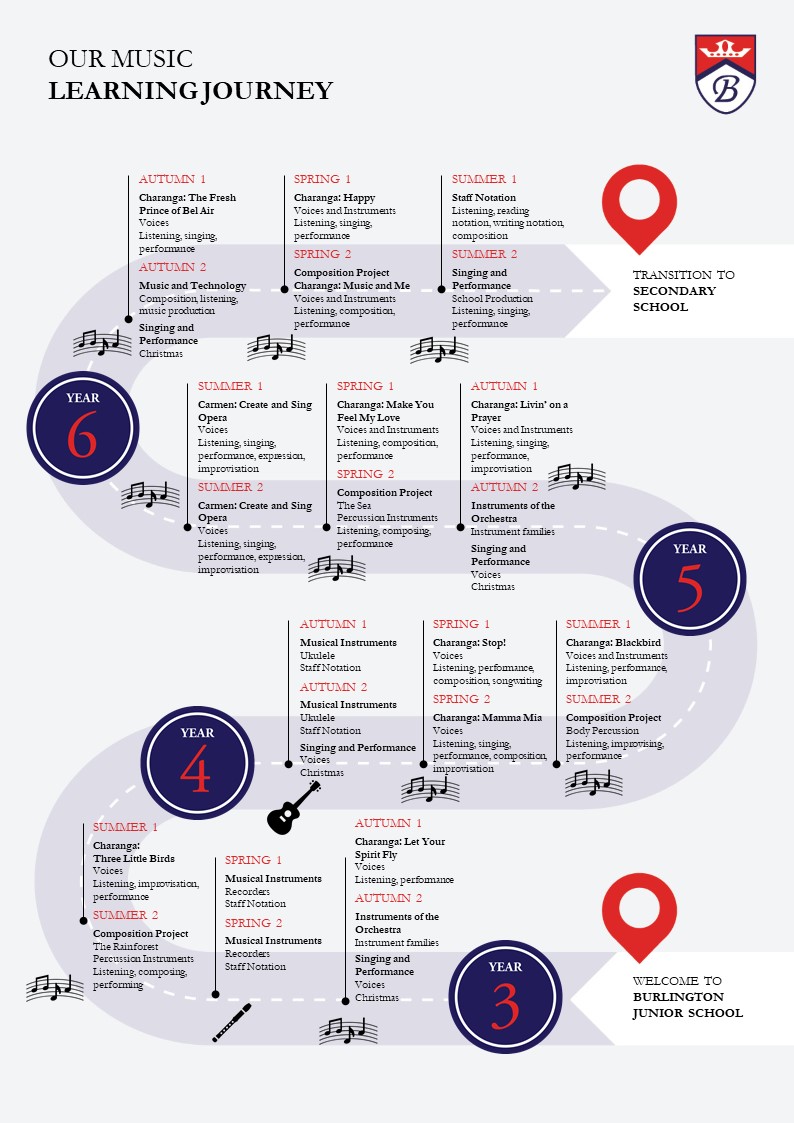 "Music makes me feel calm."

"I enjoy listening to music. It is a beautiful sound for my ears."

"I love singing and when I sing it makes me feel like I'm in a different world and nobody's watching. When I sing, I can really be myself."

Burlington Junior School pupils
Enrichment in Music
Burlington Junior School offers so many fantastic musical opportunities for our pupils. We have two flourishing choirs, a school orchestra, a ukulele club, a musical theatre group and the opportunity to learn a wide variety of instruments in individual lessons (please arrange through Kingston Music Service). Worthwhile performance opportunities are plentiful, within the school and wider community.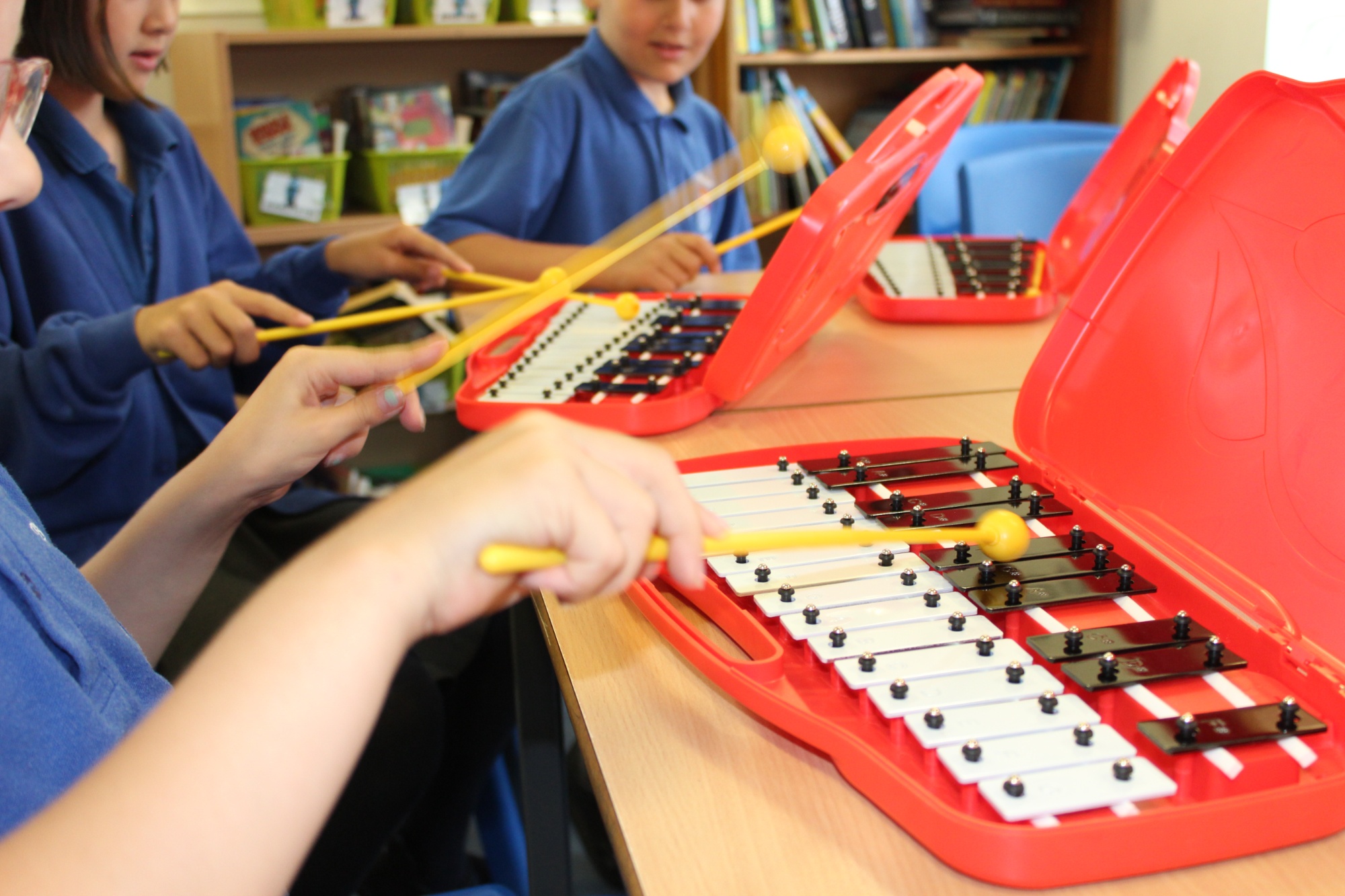 Our School Choirs

Our school choirs regularly perform at the Rose Theatre in Kingston, and have also taken part in the Young Voices Concert at the O2 Arena in London, with thousands of other children! We are also invited annually to sing carols to members of the public at John Lewis in Kingston. Recently the choir even took part in a Guinness World Record attempt for the largest number of children to sing and sign simultaneously! They joined with 360,000 children from schools across the world and it was a really exciting experience.

Useful Learning Links

-->