Equality
Equality Statement - The Public Sector Equality Duty
We aim to promote pupils' spiritual, moral, social and cultural development, with special emphasis on promoting equality and diversity, and eradicating prejudicial incidents for pupils and staff.
Our school is committed to not only eliminating discrimination, but also increasing understanding and appreciation for diversity. Burlington Junior School is opposed to all forms of prejudice and recognises that children and young people who experience any form of prejudice-related discrimination may fare less well in the education system.
To read our equality policy, please click here and open the document titled 'Equality Policy and Objectives'.
Our School Context:
Burlington Junior School is a large, four-form entry junior school in New Malden, Kingston Upon Thames. It serves a diverse community with the majority of our pupils being from ethnic minority backgrounds (72%). This figure is higher than the national average (35.7%). 47% of our pupils are multilingual learners and speak English as an additional language; again, this figure is higher than the national average (20.7%).
In addition, 21% of pupils attend Burlington Junior School with a special educational need or disability (SEND). Pupils with SEND, including those with a medical need, are fully supported by our Inclusion Leader, and external specialist professionals where appropriate, to ensure access to all aspects of school life.
The percentage of pupils at Burlington Junior School in receipt of the pupil premium grant is 13%. This is lower than the national average (24.1%) and is broadly in line with the average for Kingston Upon Thames (14.8%). We have strong links with our local infant school and with the local secondary schools to ensure that transition is smooth for our most vulnerable pupils. Our Pupil Premium Strategy contains information about how we aim to advance equality of opportunity for these pupils throughout their school life.
The Equality Act (2010)
The Equality Act (2010) was introduced to ensure protection from discrimination (direct or indirect), harassment and victimisation on the grounds of protected characteristics:
Sex;
Age;
Race;
Disability;
Religion or belief;
Sexual orientation;
Gender reassignment;
Pregnancy or maternity;
Marriage or civil partnership.
For schools, this means that it is unlawful to discriminate against individuals, or treat them less favourably, because of their sex, race, age, disability, religion or belief, gender reassignment, sexual orientation, pregnancy or maternity. The Equality Act (2010) makes it unlawful for responsible body of a school (governing body or local authority) to discriminate against, harass or victimise a pupil or potential pupil:
In relation to admissions;
In the way it provides education for pupils;
In the way it provides pupils access to any benefit, facility or service, or;
By excluding a pupil or subjecting them to any other detriment.
Public Sector Equality Duty
Under the Equality Act (2010), the school is expected to comply with the Public Sector Equality Duty (PSED). This requires us to have due regard to the need to:
Eliminate discrimination and other conduct that is prohibited by the Equality Act;
Advance equality of opportunity between people who share a protected characteristic and people who do not share it;
Foster good relations across all characteristics - between people who share a protected characteristic and people who do not share it.
As a public organisation, we are required to:
Have due regard to the PSED when making decisions, taking actions or developing policy and practice,
Publish information annually to show compliance with the Public Sector Equality Duty,
Publish objectives which are specific and measurable.
Our Equality Policy has been written in line with national guidance and contains information about how the school complies with the Public Sector Equality Duty. We also give guidance to staff and the wider school community on our approach to promoting equality.
Equality Objectives
Our equality objectives reflect the school's priorities and draw upon available data and other evidence. Careful analysis of this is undertaken in order to ensure that we are working to achieve improved outcomes for different groups.
Date Objectives Set: October 2022
Date Objectives to be Reviewed: No later than October 2026
| | |
| --- | --- |
| Objective 1 | To monitor pupil progress and attainment in order to ensure that pupils in vulnerable groups achieve their potential. |
| Objective 2 | To provide a variety of enrichment opportunities which give the opportunity for all children to become rounded individuals both physically and psychologically. This may include access to sports' clubs, extra-curricular activities, trips and visits, and multicultural weeks. All vulnerable pupils will be specifically offered enrichment opportunities in sports, arts or music. |
| Objective 3 | To ensure that planning and resources utilised in lessons are reflective of both our school and wider community. This can be seen through the texts studied, images used and references to inspirational figures and places. |
| Objective 4 | To ensure that reasonable adjustments are made for any staff member, parent or pupil with a physical disability or mental health need to better meet their needs in line with our accessibility plan. Where any disadvantages are identified or experienced, they are addressed quickly and monitored accordingly. |
Specific tasks relating to these objectives can be found within our school development plan and equality action plan (see below).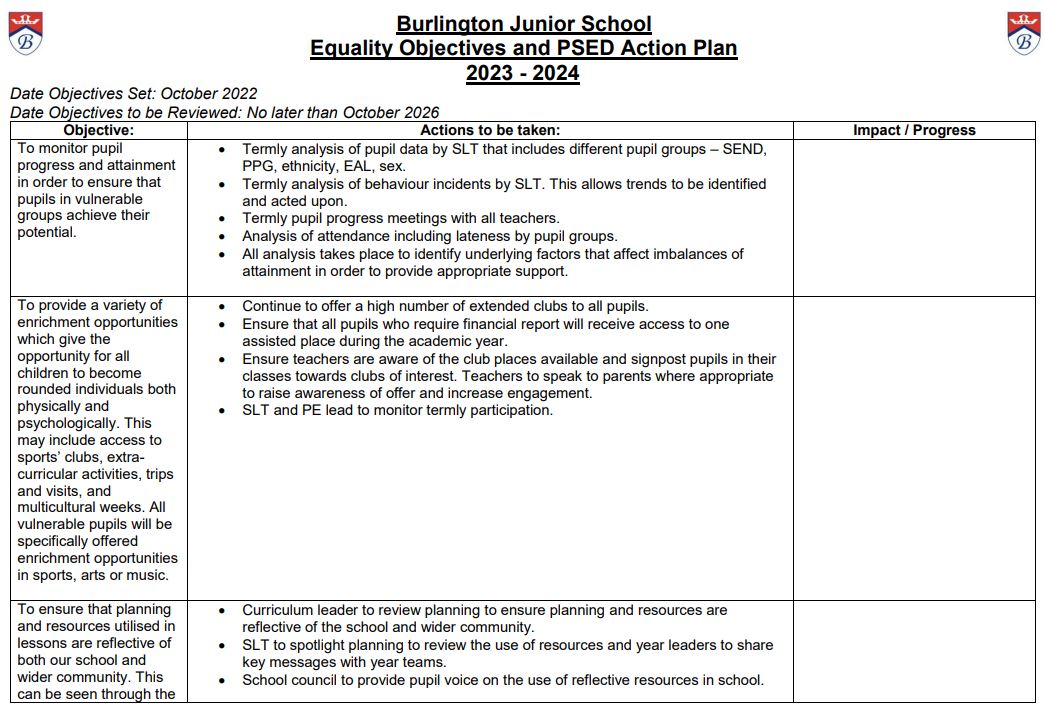 Related Policies
Equality Policy and Objectives
Inclusion Policy
SEND Policy
Preventing Radicalisation Policy
Safeguarding and Child Protection Policy
Anti-Bullying Policy
Behaviour Policy
Review of compliance with PSED in 2022-2023 (appendix 3 in our Equality Policy)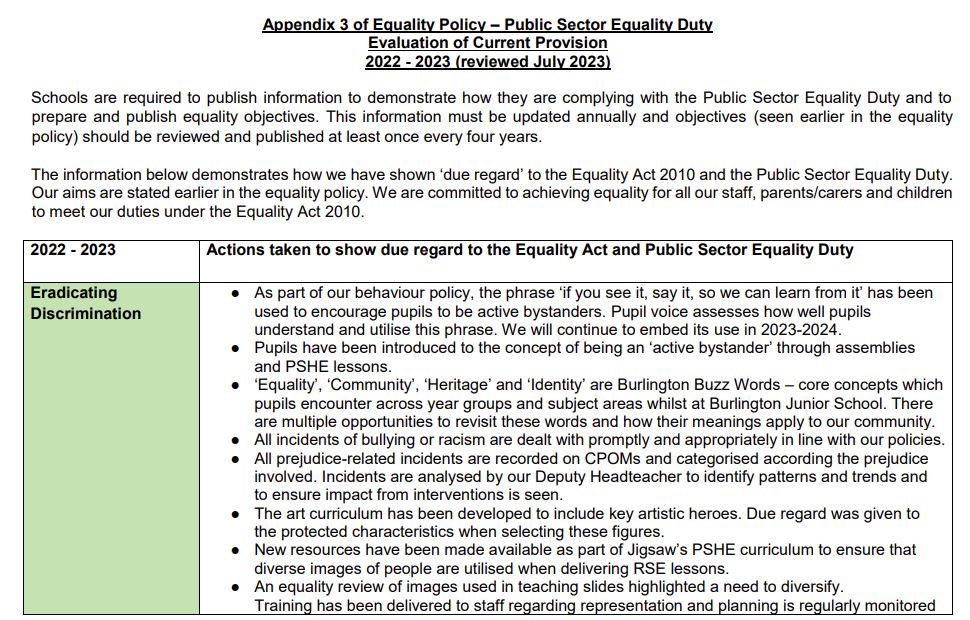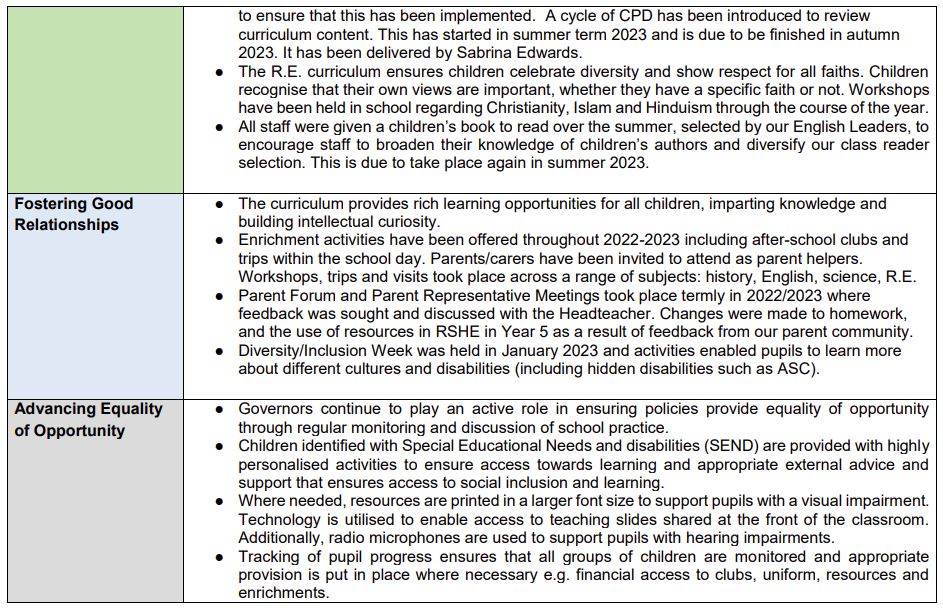 Definitions

Direct discrimination: occurs when one person treats another less favourably, because of a protected characteristic, than they treat - or would treat - other people.

Indirect discrimination: occurs when a 'provision, criterion or practice' is applied generally but has the effect of putting people with a particular characteristic at a disadvantage when compared to people without that characteristic.

Harassment: unwanted conduct related to a relevant protected characteristic which has the purpose or effect of violating a person's dignity or creating an intimidating, hostile, degrading, humiliating or offensive environment for that person.

Victimisation: occurs when a person is treated less favourably than they otherwise would have been because of something they have done ('a protected act') in connection with the Act.

-->