English
It is our intention when teaching the English curriculum that our pupils obtain the necessary knowledge, skills and understanding to become lifelong readers and writers. We strive to ensure that all our pupils receive a well-rounded learning experience when reading, writing, speaking and listening, which will give them the fundamental tools to achieve throughout their life. We aim to immerse pupils in the wonders of quality texts, to instil a love for reading, a passion for discovery and a confidence to explore their imagination.
Our English Overview
Our subject overview was created using the Power of Reading scheme and includes texts that often link to topics within our broad and balanced curriculum. The handpicked books are full of creative hooks and teaching covers learning objectives set out in the National Curriculum. The fiction, non-fiction and poetry texts taught introduce complex vocabulary, characters and settings, which helps children to generate ideas to inspire them in their own writing. It is also a fantastic way of introducing children to new genres and different text types as they progress through the school and on to their next stage of learning.
"There have been a lot of resources throughout my time at Burlington that have helped me improve my writing, such as high-quality books. We complete a variety of written genres and there is always time given to edit each piece so we can learn to improve our work."

"Burlington has taught me that we all have our own strengths and that there is always the necessity to build on your confidence, so, go out of your comfort zone and explore different styles of writing."

Year 6 Pupil
Enrichment in English
We are continually looking to promote English within the school and develop chlidren's confidence and enjoyment of reading and writing. This is achieved using a range of resources and activities: a well-resourced library; regular author visits; participation in book festivals; school trips to book stores; celebrations of English through curriculum days such as World Book Day.
"Burlington has given me the opportunity to read informative and inspiring books. The main school library and every classroom's book corner is full of books! I have found so many new books to read that entertain me and help me grow my vocabulary. There are always opportunities to read new books during events such as World Book Day and book fairs. I love it when we are given tokens to buy new books or are taken on school trips to book shops."

Year 4 Pupil
Reading at Burlington Junior School
Our Reading Intentions:
For children to enjoy reading
To provide a stimulating reading environment to enable all children to become independent and confident writers by the end of Key Stage 2
To develop independence in decoding words
To develop comprehension, interpretation and the ability to form opinions of a broad range of fiction, non-fiction and poetry
Our intention is to provide pupils with a high-quality texts in order to develop a love and a true interest for English. Writing is an integral part of our curriculum. All children are provided with many opportunities to develop and apply their writing skills across the curriculum. It is our intention that pupils develop a clear understanding of the writing process in order to establish themselves as a writer. We plan using the Power of Reading initiative which successfully enables the children to write for purpose and audience. It also allows the opportunities for the children to explore a variety of genres, planning, drafting and re-drafting of their writing. It is our intention to broaden our pupils' exposure to high level vocabulary to allow pupils to apply their understanding of vocabulary and grammatical features within and across the English curriculum.
Our Vocabulary Development:
We endeavour to ensure we provide our pupils with a 'language rich' environment. We do this by:
ensuring the children have access to a range of texts in the whole-school library, class book corners and the outdoor library shed
book fairs to allow children to purchase and raise money for the school
vocabulary within our skills ladders across all subjects
'Tier 2' vocabulary lessons taught weekly across all year groups
the use of vocabulary rich within our writing across all working walls.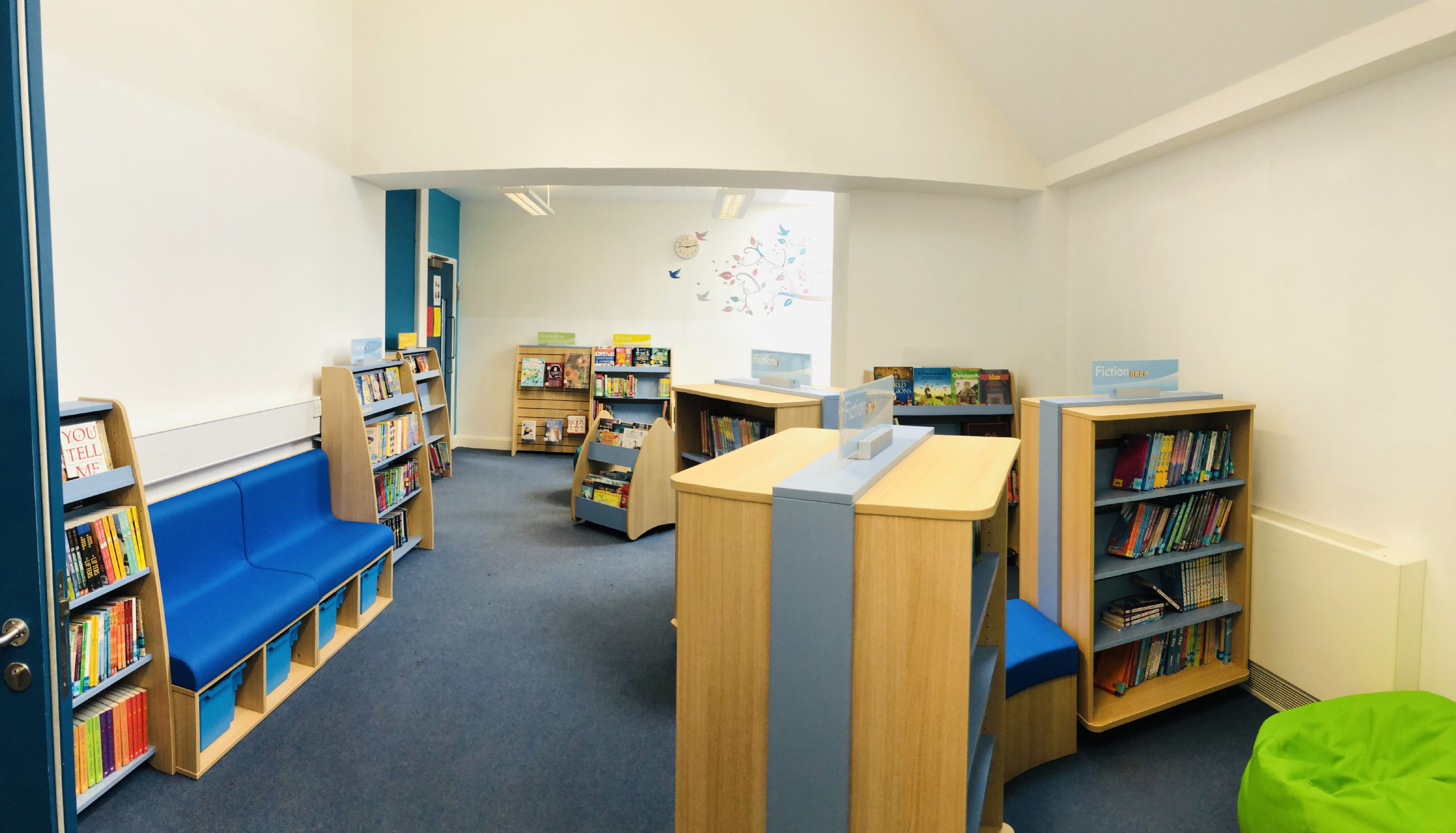 Our School Library
"I love all of the places you can read at Burlington. Within the library, there are so many genres to choose from and books that can help me learn more about the topics I'm interested in. The books we get to read alongside our literacy work have helped me learn useful vocabulary for my own writing. This year, I have learnt phrases that I want to use within my written work in Year 6."

Year 5 Pupil
Phonics and Our Reading Scheme
Phonics
Our Phonics Intentions:
At Burlington Junior School we aim to provide a stimulating reading environment which enables every child to become an enthusiastic, independent and confident reader by the end of Key Stage 2.
Our Phonics Implementation:
When joining Burlington Junior School, all children in Year 3 are assessed according to the Read, Write Inc. baseline assessment. Children who have not met expectations in phonics at the end of Year 2, are taught on a 1:1 basis, daily throughout Year 3. These 1:1 interventions make use of Read, Write Inc. resources which support synthetic phonics teaching in a systematic way.
Throughout Key Stage 2, children continue to make use of their phonics skills to enable them to decode and blend sounds in unfamiliar or tricky words. Children also develop their abilities to understand, interpret and infer meaning in a variety of different texts and genres. Reading is developed in this way through:
- Guided reading in small groups
- Whole class guided reading
- Buddy reading across year groups
- 1:1 daily reading
- Independent reading
- Booster groups and small 1:1 interventions
- Toe by Toe scheme
Useful links to help your child with their phonics at home:
Our Reading Scheme
Once children have shown that they have met expectations in phonics, they move on to the Collins Big Cat resources as our colour-coded reading scheme. This helps children become fluent readers before becoming an independent reader.
For a more detailed explanation of the above bands and expectations please click on the link below:
Independent Readers
To encourage independent reading in school and at home, children are able to select differentiated books to read according to their reading ability and they are also able to borrow both fiction and non-fiction books from the school library and their class book corners. Teachers in all year groups read aloud to classes as often as possible to enthuse about texts, encourage enthusiasm and to model reading as an essential and useful skill.
For more information about reading at Burlington Junior School, please see the reading section in our Teaching and Learning Policy.
The Collins Big Cat colour-coded reading scheme is shown below:
Recommended Reading Books
How to find the 'just right' books for your child:
The five finger rule is a quick and easy way for your child to check if a book is suitable to read on their own. Before they start, ask them to turn to a random page in the book and read it. For every word that they don't know, they should hold up a finger. Your child can use the following guidelines according to how many fingers they hold up:
0 or 1 – Most probably too easy for your child.
2 – A good choice that will give your child a reasonable challenge and allow them to learn new words.
3 – Your child might need some help, but still a good choice if they're up for a challenge.
4 – May be too difficult for your child to read on their own. If you are on hand to give them help or read along with them it can be suitable, but if they are reading on their own, choose a different book.
5 – Most probably a bit too advanced, try a different book.
The five finger rule should only be taught as a guideline for helping your child to find 'just right' books. It's worthwhile remembering that if they have their heart set on a book that seems too hard, it's probably OK to let them have a go. Be nearby to help them if they get stuck on a tricky word, and don't forget to praise them for making an effort.
Book Trust
​Is your child finding it difficult to choose their next reading book? The Book Trust's website is a fantastic place to start. Using their website, you can search for a new book to read based on your child's age or interests. The Book Trust have also created a number of different book lists including '100 books that children should read from the last 100 years' and 'the Great Books Guide' to name a few.
Books for Topics
Books for Topics is a great website. You can search 'Topic Books', 'Home Learning' and 'Key Stage' as well searching for a variety of NEW authors based on books your child enjoys reading. This will give your child exposure to brilliant written books by fantastic authors. Make sure you read the section about top reads for your child's year group plus, fiction and non-fiction books that have been given awards! Happy reading.
Writing at Burlington Junior School
Our Writing Intentions:
To enable all children to become independent and confident writers by the end of Key Stage 2.
To ensure a competent grasp of cursive handwriting.
To encourage enjoyment of writing for purpose.
To teach spelling, punctuation and grammar to improve the quality of written work.
Our Writing Implementation:
Our English curriculum is derived around a sequence of high quality age-appropriate texts. We use each book to create opportunities to:
develop reading fluency and comprehension with a focus on key reading strategies and skills
develop grammar and punctuation knowledge and understanding to use and apply across the wider curriculum
explore the writing structure and features of different genres, identify the purpose and audience
plan and write an initial piece of writing with a clear context and purpose before evaluating the effectiveness of writing by editing and redrafting
-->